DIY Fun
Hey y'all! I have a ton of grad parties to be going to this year (all my babies are graduating *cue the tears) so that could be expensive. However, depending on how well I know the person I can cut the price slightly by making the gift. These ideas also work well for other occasions such as showers or birthdays.
1) Painted Wine/Beer Glass
Before anyone starts berating me on giving a wine or beer glass to a graduate, remember that grad gifts can be to COLLEGE graduates too. Even so, a wine or beer glass is a thoughtful way to memorialize a friendship and give an individualized gift to the person. Make it a Lilly Pulitzer print. Make it a sports team. Add a monogram. Add a college logo. And regardless of the intent, the graduate doesn't have to drink alcohol out of it.
(Lilly Pulitzer)
Here is an Intructables "How-To":
http://www.instructables.com/id/Hand-Painting-Wine-Glasses/
2) Elastic Hair Ties
In stores and boutiques, these hair ties (*obviously for girls!) are astronomical. Seriously. Who in their right mind pays $12 for 5 hair ties. Thats ridiculous!! Instead, at any craft store, like JoAnn Fabrics, you can buy elastic for about $2. That elastic will make you about 7-8 nicely sized hair ties. Depending on the store, elastic comes in all colors and widths. Or, you can buy all kinds of colorful elastics on Etsy.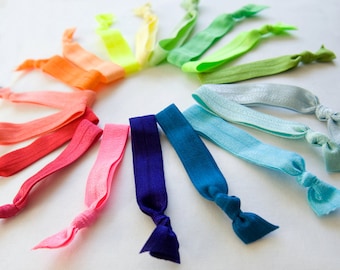 3) Needlepoint Key Fob
They work for both guys and girls and are super popular in college for keeping track of room keys, car keys, or all-access keys. For guys, I recommend their favorite team or sport or their future school. For girls, something patterned and cute, maybe their future school, whatever they like. You can buy "step-by-step" templetes on Etsy (link below) and save a bundle.
(Smathers and Branson)