Honey Lime Enchiladas
These days I have every excuse not to cook.
We are traveling constantly, and when we're home in
San Francisco we're eating out at the endless restaurants
as well as at Google during the week. I won't lie, I enjoy
this time of life when I don't have as many dishes and
grocery shopping and cooking, but truly it's something
I miss. We have a few calmer weekends coming up, so
I'm stocking up our fridge & pantry and trying some good
new recipes. Here's our first new favorite, these honey-lime
chicken enchiladas. They are found in the
favorites
cookbook,
and I lightened them up a bit so here is our version!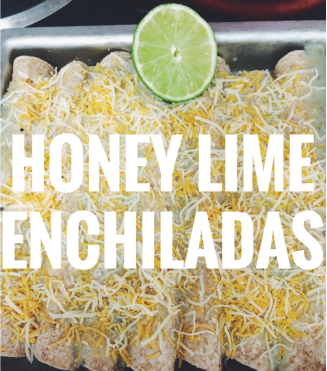 I

ngredients
1/2 cup honey

1/4 cup lime juice

1/2 tsp garlic powder

1.5 pounds cooked, shredded chicken
stir together honey, lime juice, & garlic powder. add chicken and let it marinate for at least 30 minutes.

1 can green enchilada sauce

1/2 cup half & half

(can sub milk)

8-10 flour tortillas

(we love whole wheat!)

shredded mexican blend cheese

(colby jack works as well)

Mix enchilada sauce with half and half. Spread half of the sauce in the bottom of a 9×13 baking dish, and set aside. Fill tortillas with the marinated chicken and sprinkle with cheese before individually rolling up. Line them up in pan, pour remaining enchilada sauce over the top, and sprinkle the top with cheese. Bake at 350 degrees for 25-30 minutes!
Thanks to my sis-in-law for the recipe!!
We loved these and we will be making them often.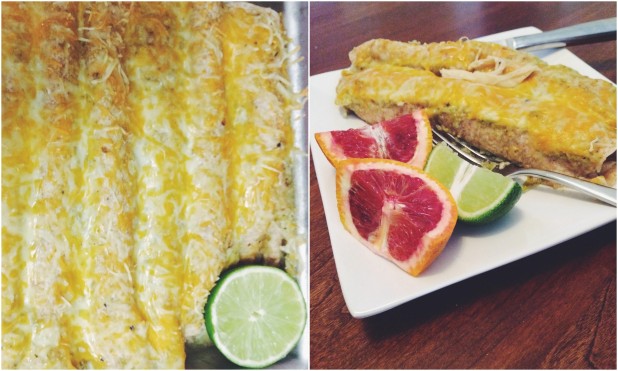 I also have heard these are great with shredded pork so
we'll try that and let you know!